The Wearable Barcode Scanner Market Keeps Growing
The market for wearable barcode scanners continues to grow. Investments in wearable technology are expected to increase by 27 percent in 2022. That is a key finding of a study by VDC Research on behalf of ProGlove.
Organizations are currently seeking ways to allow for faster fulfillment. This is key measure to address rising expenses and a key driver for the deployment of wearable barcode scanners. But the need to secure scarce warehouse labor is another big turn on for the deployment of wearable barcode scanners.
VDC Research's in-depth analysis found that organization who leverage ProGlove's leading technology managed to land substantial improvements pertaining to speed and accuracy. In fact, picking accuracy increased by 27 percent while performance enhanced by 33 percent among those organizations that deployed wearable technology.
ProGlove delivers tangible benefits
ProGlove has an unparalleled record to deliver tangible benefits on critical factors that impact the fulfillment processes. Our solutions are in use at some of the world's most iconic industry brands. The wearable barcode scanners can significantly reduce downtime and allow for handsfree flexibility with a maximum of comfort and ease of use. The technology eliminates unnecessary rest time, reduces expensive picking errors, and significantly enhances scan performance while reducing operator fatigue.
Our ruggedized barcode scanners are worn at the back of the hand of the operator. Therefore, there is no need to pick up and put down a clunky scanner gun. This is essentially what causes the significant time savings. In combination with the optional worker feedback, our wearable barcode scanners can thus considerably reduce picking errors. Yet another key advantage that ProGlove can deliver is the easy deployment and integration. We provide a variety of easy access and connectivity solutions that make the roll out extremely simple and accelerate the return on investment. Finally, with the size of matchbox and a weight of roughly two ounces, our durable industry wearables are the smallest and lightest barcode scanners in the world. In no small part, this is helping relieve worker fatigue.
Wearable barcode scanners pay for itself in less than six months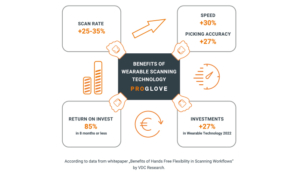 VDC Research's study found that 85 percent of organizations who responded accomplished a return on investment in eight months or less. On average the wearable technology paid for itself in six months or less. Key average improvements include order fulfillment speed 32.3 percent, order fulfillment accuracy 30.9 percent, returns management 29.9 percent, receiving operations 28.3 percent and picking & packing accuracy 27.2 percent. The study concludes that the success of these solutions encourages adopters to increase investment across all form factors by 27 % in 2022.
Download the VDC Research Whitepaper "Benefits of Hands Free Flexibility in Scanning Workflows" now to lean more!