ProGlove Sets New Guinness World Record
So – it's official. As of Sunday, January 15, 2023, 2:00 PM Eastern Time, we are a world record holder. Not one of those unverifiable, made-up records. No, we are the real deal – one for the Guinness Book of World Records.
We set out to establish a new record to demonstrate the advantages of hands-free barcode scanners. As you can imagine, we were pretty nervous beforehand. We were confident in our product, but we knew this would be our moment of truth. We knew our technology had set high standards in so many ways. But still, we wanted to push ourselves for a Guinness World Record.
To set a new Guinness World Record, we had to scan and package 50 items under supervision according to clearly defined rules. Rules such as: The items in question had to be randomly sorted by an independent witness before the attempt began and placed so that the items varied in size and weight. If the barcode reader output failed to correctly show all items, we would be disqualified. If any items were damaged in the process, it was disqualification. Furthermore, if any box contained more than 10 items, you guessed it- disqualification. To put it bluntly: We had to meet a strict set of criteria to accomplish our objective.
Setting the record with an entry-level product
For the Guinness World Record, the time to beat was 3 minutes 31 seconds. As any commercially available barcode scanner was eligible, we figured we'd give our LEO entry-level scanner a go. At only 1.23 ounces, LEO weighs less than any other barcode scanner from ProGlove. Its attractive price makes it a compelling alternative for businesses that still rely on conventional scanner guns. LEO handles up to 4,000 scans per battery charge, which takes only one hour. Operators simply hook it up, slip it comfortably on like a glove, and start scanning. Results are instant, as LEO can process all standard 1D and 2D barcodes between a range of 6 inches to 2.3 feet. Considering LEO only requires 300 scans per shift to pay for itself within 12 months, it's a good return on investment and sure way to boost productivity.  As part of our eco-system, connecting LEO to industry analytics solution Insight is a piece of cake.
Doing it with ease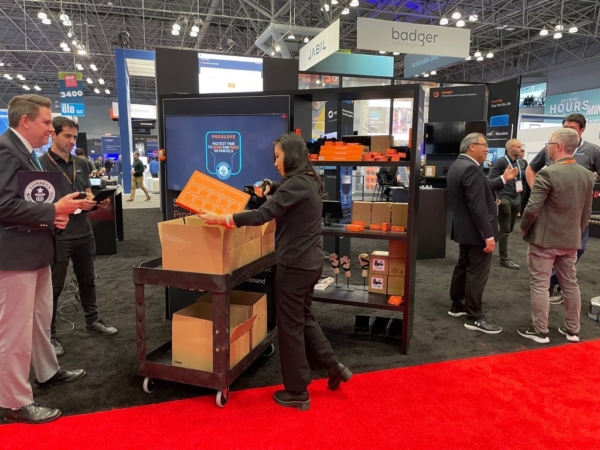 Not only did we meet the 3:31 minute target, we surpassed it with ease in 2 minutes 21 seconds, more than a minute faster than needed to become the new world record holder! This perfectly demonstrates the power of our solution. But that's not all. We achieved the record not with highly trained warehouse professionals but with untrained marketing personnel. So, why is this important? Because it addresses a key concern many retailers face. During peak season, they rely on seasonal workers and do not have the time to train them extensively. Everything needs to work seamlessly right away.
In a nutshell: we delivered a world record with our entry-level product and untrained personnel. Imagine what you can achieve with the full scope of our technology. We invite you to try ProGlove today and start breaking records! Find out more!